Welcome to Leipzig, the historical fair metropolis from Saxony.
Leipzig is situated the east of Germany. It's one of the biggest towns in saxony.
The rivers Elster, Pleiße and Parthe floe together here. Geographically Leipzig is situated 118m over the sea level. The landscape is called lowlands.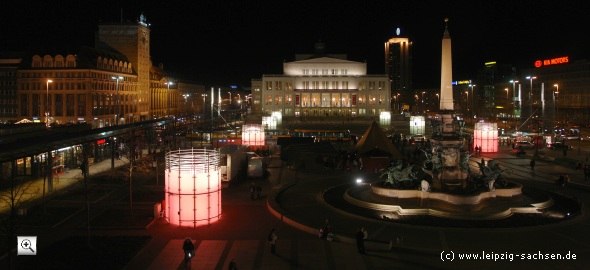 Photo: Leipzig in the night.
The City with about 500.400 inhabitants has a dimension of 297 squere kilometers.
There are a lot of possibilities to get to Leipzig. You can go by railway, car or airplane.
The Saxony triangle is formed by the towns Zwickau, Chemnitz and the capital town Dresden.

Photo: people battle memorial
Sight from Leipzig: The landmark of Leipzig is the 'Battle of the Nations memorial'. It is 96 m high.
From there you have a wonderful panoramic view.
You can the whole city and also the new leipzig lake land see.

In the middle of Leipzig you can see the famous Church St.Nicolai. A sign for the united Germany.
Visitors of the city are astonished. In a short time are many old buildings reconstructed.

The most sights you arrive during a walk through the city. You can relax during a little break in one of Leipzig Parks.

Leipzig sights
>> guide with picture, >> Leipzig map >> Shopping
Culture: Artists and poets like Goethe, Lessing and J.S. Bach have leave their signs.
Because of that Leipzig has the reputation to be a centre of culture.
Leipzigs has worldwide a name as town of music among other things because of its music hall the "The Gewandhaus". This orchestra makes music together with the famous "Thomaner chorus" in the Thomas church and in the opera. Once in a year there is a high point to Christian Ascension - "The Bach Festival". Leipzig has got a well known large number of museums. Museums of Leipzig. >> Leipzig museums
The scene lived in the city in the suburb south and in Connewitz. The town have a remarkable life at night another scene highlight. >> nightlife Leipzig
Especially at the weekend you can see that in Leipzig exist a major cultural area with cabarets and pubs. Whitsuntide take place the Wave Gotik meeting in Leipzig. -> scene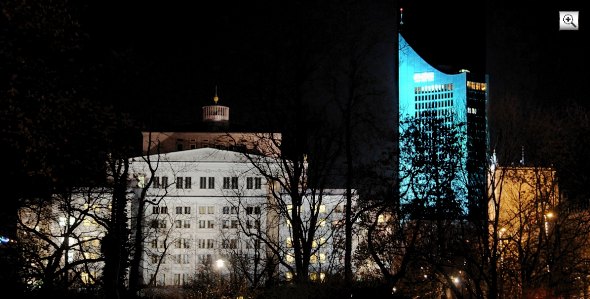 Photo: Opera Leipzig and right side the city skyscraper
Trade: Leipzig is an old trade and fair City. Leipzig is situated on two important trade and military streets. Today Leipzig is universally known through the >> Leipzig fair.
Some of the most important trade fairs of the year are the automobile International fair "AMI", the "Leipzig Book Fair",the "Games Convention"and the "Tourism Trade Fair".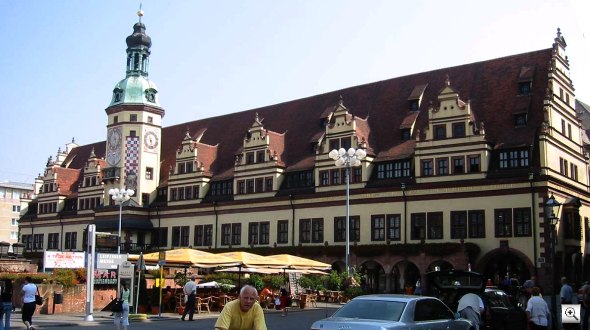 Photo: Leipzig old Town hall and market place
Business: In recent years, many companies in the region of Leipzig has grown.
Some are Siemens, Amazon, Porsche and BMW.
The Business with telecommunication products like PC-Ware and t-Systems runs in Leipzig. Supply of power like VNG gasworks had an important place in Leipzig.
Leipzig is also a well known place of banks in Germany.
Since 2008 works the Cargo Company DHL on the airport Leipzig/Halle.

Medial landscape:
The central office from MDR works in Leipzig. The Media city is a complex from television studios and movie production situated in Leipzig.
Some private radio stations produce in Leipzig.

More information to tourism in Leipzig can you find:
Leipzig Touristik and Marketing GmbH - Official Tourist Information Office Leipzig
Address: Katharinenstraße 8, 04109 Leipzig-Zentrum [Map]
Phone: +49 (0)341 7104-260 or 265
Fax +49 (0)341 7104-271 oder 276
Open: Mo-Fr 9.30 - 18.00 Uhr (November-Februar 10.00 - 18.00 Uhr),
Sa 9.30 - 16.00 Uhr, So 9.30 - 15.00 Uhr
Internet: http://www.leipzig.de/int/en/tourist/ansprechpartner/
E-mail info@ltm-leipzig.de
Leipzig Hotels Accommodation booking service >> Leipzig Hotels
Airport Leipzig information & Fligth ticket book >> Leipzig Airport
Leipzig city transport - bus, tram and car rentals >> Transportation